Simple rangoli designs, Rangoli designs is a art and have auspicious importance in every festivals, Festival seems to be empty without Rangoli design. Rangoli is made by colorful sand; there are different varieties and colors in Rangoli. White is the basic color which is used to draw basic outline of Rangoli designs. No design limit on Rangoli, it could be name with different graffiti used to decorate names, it could be different shapes with different sizes, it could be anything which will represent the theme of festival or gala.
Decorations used on Rangoli,
To decorate Rangoli design with something, this will enhance the appearance of the Rangoli design. Rangoli already have varieties of colors even though to make it better we have couple of options. Such as we can add shiny powder, diya or dipak to make it lighten, use beautiful flowers, use tree leafs (to make it more natural), colorful stones, etc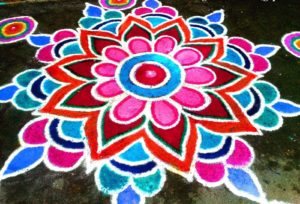 As simple Rangoli designs is the art so there is no limitations and rule, this will depend on personal choice and interest. there are very simple rangoli designs. To decorate Rangoli women's or girls know it better, they can do different experiments with their unique Rangoli design. Generally Rangoli design and it's decoration will depend on festival or gala. For example "Diwali" Diwali is the festival of lights celebrated almost a week. In diwali season different days have different importance and tasks to do with your family members, relative, with friends. Lakshmi poojan is the very important day in diwali season on that day peoples pray to wealth goddess "Lakshmi". To mark this day girls or women does will put some designs related to lakshmi poojan in Rangoli design. These designs we calles Diwali rangoli , Here we have easy rangoli designs for diwali.
To know more about rangoli designs, you can check our all articles about rangoli
latest simple rangoli designs
Points to remember before Rangoli desings
Rangoli place
To draw a Rangoli on perfect place is equally important like Rangoli designs. Generally Rangoli always draw in front of the main entrance gate. When some guests come to our home they can easily notice something special festival, Rangoli gives feel good factor to our beloved guests as soon as they enter in our lovely house. If you dont know about rangoli then you can try simple rangoli desings, first,  What do you think? Please inform your opinions by comments or contact gulabifashion
As we discusses before about simple Rangoli designs, You are free to choose any design, shape, color, decoration, size of Rangoli etc. It's totally up to you, how you will make it more beautiful and eye catching. Creative peoples can make it in better way. We have some pictures for your reference that how you can draw a Rangoli to make your house looks beautiful, spirituality etc. Are you ready to draw Rangoli?
simple rangoli designs decorations
Rangoli decorations could be shiny powder, Beautiful flowers, Beautiful tree leafs, Natural colorful stones, etc
Beautiful flowers are the best option in my opinion because it will give very good smell as well. Everyone likes Flowers they have different color, shape, size, smell, appearance etc. Now let's decorate our house with Rangoli designs.