Eye makeup, Eyes are the important organ of our body, whenever we meet someone our first area of attention will be eyes. Eyes are sensitive too, so just putting makeup with local brand without knowing its effect and actual use may lead infection to your beautiful eyes. All type of eye makeup may not suitable for all girls, because many girls already have long and black eyelashes so little eye makeup will be perfect for them. Mascara is most widely and commonly used eye makeup. Mascara is used to darken, lengthen, thicken, or draw attention to the eyelashes. Mascara is available in various colors. The choice of color will depend on personal choice. Some mascara includes glitter flecks. There are many formulas, including waterproof versions for those prone to allergies or sudden tears. It is often used after an eyelash curler and mascara primer. Much mascara has components to help lashes appear longer and thicker. Little touch of mascara will make your eyes looks very beautiful.
Eye shadow is also important in the chapter of eye makeup. Eye shadow is a pigmented color powder/cream or substance used to accentuate the eye area, traditionally on, above, and under the eyelids. Many colors may be used at once and blended together to create different effects/ eye shades, this shade mostly match with dresses or other outfits like gowns, saree etc. This is conventionally applied with a range of eye shadow brushes, though it isn't uncommon for alternative methods of application to be used.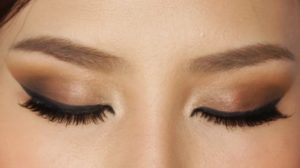 Eye liner is also used to enhance and elongate the apparent size or depth of the eye. For example, white eyeliner on the waterline and inner corners of the eye makes the eyes look bigger and more awake/ it looks very beautiful, try this for your next makeup and comments me your experience below. It can come in the form of a pencil, a gel, or a liquid and can be found in almost any color. Again the choice of color will depend on worn dress or personal choice.
eyebrow makeup
Eyebrow makeup pencils most widely/commonly used eye makeup, creams, waxes, gels, and powders are used to color, fill in, and define the brows.
False eyelashes are used when exaggerated eyelashes if desired. Their basic design usually consists of human hair, mink hair, or synthetic materials attached to a thin cloth-like band, which is applied with glue to the lash line. Designs vary in length and colors. Rhinestones, gems, and even feathers and lace occur on some false eyelash designs with modern concepts.
An eyeliner brush is tapered with an extra fine tip used for gel eyeliners which allows precision to line the eyes to make it more attaractive.
A spoolie is used to brush out the eyebrows and can also be used as a mascara wand, additional eye makeup.
A lip brush is small to ensure precision and is used to apply lipstick evenly onto the lips.
An eye shadow brush is a dense brush that allows shadow to be packed onto the eyelids.
A blending eye shadow brush is used to blend out any harsh lines you may have from the eye shadows and can soften the eyeshades look.
Check our daily best fashion blog