Nail art designs can be tied to the concept of femininity and the sense of belonging in a group of females.
Nail art is also the way to create its own identity through fashion, using different colors and shapes to make unique nail art designs.
Nail art designs are also part of the puzzle of mounting the gender identity, like female, the nails for teenagers and adult women represents a piece of the symbol of what is a woman and how the woman should present herself. Even though the women use nail art to express their womanliness, the different types of art define as a woman with particular personality with her unique fashion style and fashion designs. Nail art color may also express the nature or the style of nail art designs, For example pink color for nail art represents female symbol, Light color for softness, red color for activeness, black colored nail art designs (aggressive). These are the easy nail art concepts.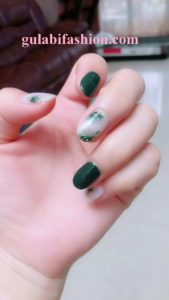 Procedure to make best nail art designs
There are different types of nail art design procedures, but first of all we have to clean nails and polish the surface for better appearance and superior nail polish quality. Perfect nail paints applied on the nails need to be the better nail appearance. If you applied nail polish on nails which didn't cleaned before nail paint then the paint design may not look good. It's better to clean the nail before painting it and making them ready to have best nail art designs.
1.Acrylics: a chemical mixture of monomer liquid and polymer powder that can be directly applied on the nails or on artificial nails also called nails extensions or enhancements.
2.Nail gel: Nail gel is a chemical combination similar to acrylics, also known as shellac nails. Manicurist applies several layers on the fingernails or/and toenails and lets it cure under a UV or LED light. When the gel is cured it hardens the nails. Gel is also common in a polish form known as gel polish, and, like other forms of gel, also requires a UV or LED light to cure. The difference between acrylic and gel is that acrylic dries naturally but gel needs UV light to cure. Similarly, where regular nail polish will dry naturally, gel polish will remain tacky until cured by a UV light.
3.Nail polish/nail varnish: a lacquer applied to finger and toe nails to protect or as a base color like primer or foundation. Nail manicurists also use a base coat to protect and strengthen nails, as well as preventing the natural nail from yellowing or staining.
There are many options are available for decorating nail art designs. Examples are mentioned below
check mehndi designs as well for your beautiful hands
Here are some nail design ideas
Nail art pens
Piercing
Glitters
Water marbling
Adding accessories
Nail dotters, also known as "dotting tools"
Nail art brushes
Studs, rhinestones, miniature plastic bow-ties, beads, and aluminum foil
Thin, colored striping tape
Sponges (for gradient effects)
Stationery tape/ stickers
Do-it-yourself (DIY), is a new concept of doing nail art without the aid of nail designs experts or professionals. Its fun to do you, as this is creative field your first attempt may not be perfect but it could be improved and increased by doing practice to decorate your beautiful nails(cool nail designs) to increase your fashion status.
easy nail designs
simple nail designs
pretty nail designs
collection of easy nail art designs