Ladies Footwear is an item to protect and give comfort to human foot, very useful to do different activities. Footwear also used as the decorative and girls fashion lifestyle. The footwear design and appearance will change frequently with culture to culture, it may effect of modern lifestyle or new fashion. The primary goal of footwear is to protect and give comfort to human foot from temperature, sharp surfaces, rocks etc but as the development of society and human development footwear took place as fashion. Footwear modified with variety of design elements such as whether ladies footwear have high heels or flat ones, color of ladies footwear, material of footwear, shape of footwear and many more aspects describes ladies footwear style and fashion.
Basically footwear has been made from leather or cheap materials consist of thin sole and simple strap. But Nowadays some footwear are made by expensive materials, uses complex manufacturing processes, variety of fabrics, fashion articles, etc these can be made from top reputed/famous  footwear designers. Some of them made for specific purposes like for wedding ceremony, party, high professional meeting, etc. Commonly ladies footwear made from rubber, plastics and other petrochemical-derived materials. From which human foot is adapted to varied terrain and different climate conditions.
Ladies footwear
There are large varieties of shoes available for ladies footwear, available in different designs, color, shape, footwear material.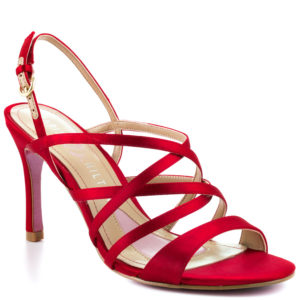 Ladies High heeled footwear is footwear that raises the girls heels, typically by 2 inches (5 cm) or more above the toes, It will depends on personal choice,  commonly these type of footwear worn by women for formal occasions or social outings like marriage ceremony, function, festival, party, meetings. Variants include kitten heels (typically 1½-2 inches high) and stiletto heels (with a very narrow heel post) and wedge heels (with a wedge-shaped sole rather than a heel post).
Mules are shoes or slippers with no fitting around the heel (i.e. they are backless)
Sling backs are shoes which are secured by a strap behind the heel, rather than over the top of the foot.
Ballet flats, known in the UK as ballerinas, ballet pumps or skimmers, are shoes with a very low heel and a relatively short vamp, exposing much of the instep. They are popular for warm-weather wear, and may be seen as more comfortable than shoes with a higher heel.
Court shoes, known in the United States as pumps, are typically high-heeled, slip-on dress shoes.
Pumps- High heel pumps, Women's high heel pump
Unisex footwear for ladies
Clog
Platform shoe: shoe with very thick soles and heels
Sandals: open shoes consisting of a sole and various straps, leaving much of the foot exposed to air. They are thus popular for warm-weather wear, because they let the foot be cooler than a closed-toed shoe would.
Saddle shoe: leather shoe with a contrasting saddle-shaped band over the instep, typically white uppers with black "saddle".
Slip-on shoe: a dress or casual shoe without shoelaces or fasteners; often with tassels, buckles, or coin-holders (penny loafers).
Boat shoes, also known as "deck shoes": similar to a loafer, but more casual. Laces are usually simple leather with no frills. Typically made of leather and featuring a soft white sole to avoid marring or scratching a boat deck.
Slippers: For indoor use, commonly worn with pajamas.
These all are the ladies footwear fashion accessories. Check here more articles Ladies fashion footwear